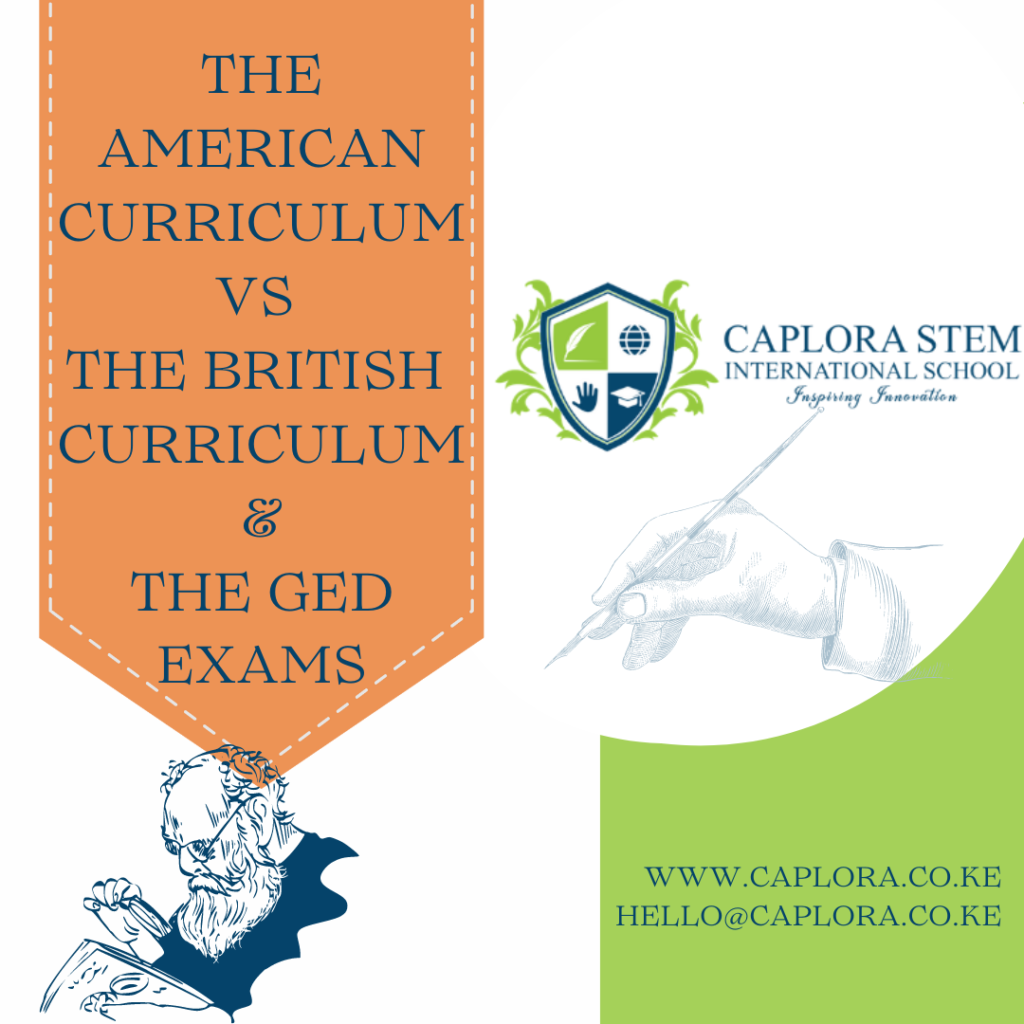 The British Curriculum vs The American Curriculum
An Unbiased Comparison
Choosing the right curriculum for your child can feel overwhelming, especially with the sheer number of educational systems on offer. Today we will be looking at the British curriculum vs the American curriculum, both have their own systems and methods of distributing information.
There are various nuances to take into account; While both systems aim to provide a comprehensive education to students, there are distinct differences in their approaches that can impact the student's academic and career trajectory.
The American System
One of the key distinguishing factors are the broader range of subjects covered in the American curriculum, which includes not only core subjects like math, science, and English but also subjects such as music, art, and physical education. The goal of this approach is to create a more well-rounded educational experience that prepares students for a variety of careers and interests. This approach also emphasizes the importance of developing students' soft skills, such as communication, teamwork, and creativity, which are essential for success in the modern workforce. It is a 12-year system with standardized testing beginning in kindergarten, students sit for the SAT's (Self-Assessment Test) at the end of their 12 years.
There are several drawbacks to be considered when it comes to the American curriculum. One of the main concerns is that it can be too focused on standardized testing, standardized tests are an integral part of the admissions requirements for universities, the most common of which is the rigorous SATs. Additionally, international students should be able to demonstrate their English proficiency by either taking a TOEFL (Test Of English As A Foreign Language) or an IELTS (International English Language Testing System) exam. Depending on the nature of your course, other exams that may be required are GRE (Graduate Record Examinations) which is for the purpose of admissions to masters and doctoral degree programs in various universities, ACT which is commonly used for undergraduate admissions mostly in the US and Canada. The ACT exam covers four academic skill areas which are English, Mathematics, Reading and Writing. MCAT (Medical College Admission Test) is another exam. A computer based standardized examination for prospective medical students in the US, Australia, Canada, and the Caribbean Islands. It is designed to assess problem solving, critical thinking, written analysis and knowledge of scientific concepts and principles. Here, fluency in English is assumed. Lastly are the LSAT (Law School Admissions Test) exams. This is a standardized test administered by the Law School Admissions Council for prospective law school students. It is designed to assess reading comprehension as well as logical and verbal reasoning proficiency.
These examinations can create a stressful environment for students. Additionally, there is less emphasis on creativity and critical thinking, which are important skills for success in the modern world. Another issue is that the curriculum may not be as culturally diverse as it could be, which can limit students' exposure to different perspectives and ways of thinking. Finally, the curriculum may not be as flexible as it could be, which can make it difficult for students with different learning styles or interests to fully engage with the material.
The British system
On the other hand, the British curriculum is more focused on depth rather than breadth, with a greater emphasis on core subjects and specialized tracks for students who want to pursue specific career paths. This approach is designed to provide students with a more specialized education that prepares them for university-level study and careers in their chosen field.
The British curriculum also places a strong emphasis on academic rigor, which can help students develop the critical thinking and problem-solving skills necessary for success in any field. In the British system, standardized tests for students starting in Grade 6(Checkpoint Exams). It is an 11-year system as opposed to the American 12-year system.
Students pass the General certificate of secondary education IGCSE test to graduate from secondary school, on the basis which calculates the total score to qualify them for admission to universities and limit all questions to the curriculum. It provides high levels of education and high school diploma that help students qualify for entry to international universities in the USA or the UK. The biggest drawback of this approach is that it may put psychological pressure on some students, as the total score that the student gets depends on his performance in the final exam only.
Conclusion
It's worth noting that both systems have their strengths and weaknesses, and the choice between them will depend on various factors, including a student's interests, career goals, and academic abilities. For example, students who are interested in pursuing a career in the arts may benefit from the broader range of subjects covered in the American curriculum, while students who are interested in pursuing a career in engineering may benefit from the more focused approach of the British curriculum.
Both the American and British curriculum have their unique approaches and strengths, and the decision between the two should be carefully considered based on each student's individual needs and aspirations.
WHY THE GEDs?

Traditionally known as General Educational Development test is a group of tests made up of 4 subjects, after passed they provide certification for the test taker confirming that they have high school level academic skills. It is equivalent to a high school diploma as it serves the same purpose.
These tests are taken by individuals who did not earn a high school diploma. Each country determines the cost of the GED exam but on its usually around 4000ksh per exam so in total expect to spend 16,000ksh which is a reasonable investment for your future in general and that of your education.



What to expect from the GED?
The GED exam is made up of four subjects, they are separated into four exams, the subjects are the four most common subjects taught in high school, and there is one test for each subject.
These exams include:
Mathematical reasoning: it consists of number operations, algebra, functions, statistics, probability, arithmetic's, and others under this topic. The exams lasts 115 minutes.
2. Science: this includes physics, chemistry, life science, earth, and space science. This exam lasts 90 minutes.

3. Reasoning through language arts: This consist of comprehension
skills, reading skills of fiction and non-fiction and writing skills like essay writings, sentence structure mechanics and organization. This one lasts 150 minutes.
4. Social studies: Consists of world history, geography, civics government and economics, which lasts 90minutes.
How does someone prepare for the GED?
Fortunately for GED test takers they have access to the topics that will be on the test so they know what to read on by preparing on each topic of each individual subject, this will put them in the best position to pass the exam. Also, with access to all inclusive prep resource sites like study.com they can be able to do practice quizzes for each topic and practice full tests.
So why is GED important and why do some people take them?
Since colleges require students to have a high school diploma or GED, people who didn't get a chance to complete high school for whatever reason have a chance to get a high-quality alternative as it gives you a similar educational foundation as the diploma, so you'll be ready and prepared for college despite the disposition. It can also help ensure the additional education needed for a successful career.


In addition, the GED Testing Service is a joint venture of the American Council on Education. PEARSON is the sole developer for the GED test and the test is taken in person. The candidate then gets awarded a Certificate of High School Equivalency or similarly titled credential after meeting the passing score requirements. In addition to English,the GED tests are available in Spanish and in French in Canada, large print, audio and braille. Individuals living outside the U.S, Its territories and Canada may be eligible to take the GED tests through Pearson Vue testing centers.